All marriages have challenges, and there are certain challenges unique to military marriages.
Chaplain Father Matt Foley talks about the difficulties distance, deployment, expectations about communicating, separation, and integration can bring to military couples.
What support systems are in place to help my family when I am deployed?
How often and how will we communicate?
How do we handle the sacrifices we are making for our country and for each other?
How will the sacraments help us maintain our marriage vows?
How can we strengthen the two of us as a couple?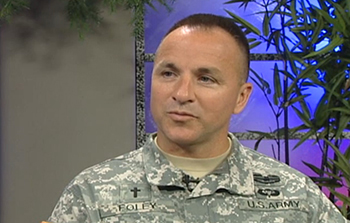 Father Matthew Foley is a priest from the Archdiocese of Chicago. His Uncle was an Army Chaplain in Vietnam, his brother is a Colonel in the United States Army and he always promised that if there was a war, he would serve as a Chaplain.
In 2008 Cardinal Francis George allowed Father Matt to became a US Army Chaplain. He was the chaplain to the 101st Airborne Division, and was deployed to Afghanistan three times. He is currently the pastor at St. James parish in Arlington Heights, Illinois. You can follow him on Twitter: @padrematt.