The Theology of the Body comes from a series of reflections that Blessed Pope John Paul II gave about the truth, beauty, and goodness of the human body especially in how the husband and wife come together through the marital embrace in a complete gift of self to each other.
The body reveals the inner person and whatever we do to the body, we do to the soul: they are united. Shame and fear entered the human experience after Adam and Eve sinned, and it took Jesus coming as the redeemer to be back in unity with God. Jesus redeemed us by giving himself not just in an emotional death or spiritual death, but by dying an actual physical death. Through Jesus' body salvation is won, so through sacrificial love the greatest act of love is shown.
Craig and Amy share how following the Theology of the Body helps them to live in accord with Church teaching in their married life.
Are there special roles for men and women in marriage?
Are differences between men and women wrong? Should we strive to be the same?
How will we incorporate the teachings of the Theology of the Body into our marriage?
Do we have questions about Church teaching on sexuality?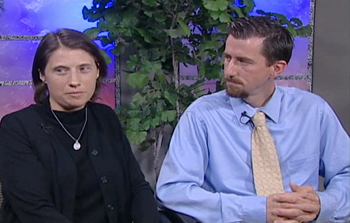 Craig and Amy Dyke, Theology graduates from Franciscan University of Steubenville, have been married fifteen years and have five daughters.
After furthering his education with an MA in Theology and Christian Ministry and Catechetics, Craig became the Director of the Office of Evangelization and Family Life for the Diocese of Peoria. In 2015, he became the Director of Family Life at the Archdiocese of Boston.
Amy home-schools their girls and has served as a Natural Family Planning Coordinator. They have led Engaged Couple Encounter weekends along with marriage enrichment retreats.
They are certified Natural Family Planning instructors and involved in their local parish. The Dykes enjoy camping as a family and hiking the beautiful rugged mountains of the National Parks around the country.