Social data reveals that African American families are particularly in crisis, having the lowest marriage rate compared to all measured groups, while also having the highest divorce rate.
The African American community also has the highest rate of fatherlessness. It has been said that children born in slavery before the Civil War had a better chance of being raised in a family headed by their biological parents than African American children born today.
What do these statistics mean to couples entering into marriage today?
What does "marriage as a sacrament" mean to us as a couple?
What can we do as a couple to serve others in the community? How important is it that our marriage reflects God's love?
Who are our couple friends? How can we be more intentional about making and maintaining those relationships?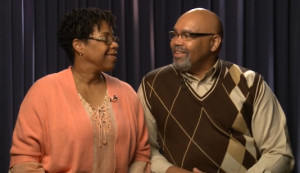 In this segment, Andrew and Terri Lyke offer encouragement and suggestions for having a successful marriage in the African American community. They have been married nearly 40 years.
Andrew is a former Director of the Office for Black Catholics in the Archdiocese of Chicago. He has been involved in ministry to the Church in a variety of ways over the past 30+ years.