Because the divorce rate for second marriages is higher than the rate for first marriages, it is important to prepare properly for marriage. If a person has been married and is divorced, they must first get a Declaration of Nullity, or an annulment from their Tribunal before they are free to marry again in the Church. This can be a lengthy and complicated process, but many couples find it brings a great sense of closure and understanding to their lives of what is needed to make a marriage valid.
The issues facing couples entering a second marriage are more complicated than those of first marriages. The presenters share their personal stories with you and offer ideas to strengthen your bond as a married couple and to help you grow in faith.
Are you worried about keeping balance in your life as you begin this marriage?
Are you concerned that the same issues that were problems in your first marriage will be problems in your second?
If you have been widowed, do you wonder if this new spouse will measure up to your first one?
What difference will your faith bring to this marriage?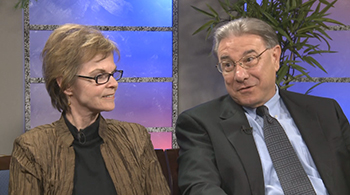 In this segment, Flo and Frank Christiano discuss the challenges they faced in their 21 years of marriage, three grown children and a grandchild. For several years, Frank and Flo presented the Marrying With Stepchildren PreCana for the Marriage and Family Ministries Office of the Archdiocese of Chicago.