For couples planning to be married in the Catholic Church, it is important to understand and reflect upon the deeper meaning of marriage.
You are not just preparing for an unforgettable wedding day, you are entering into a relationship with your future husband and wife and with God that is a permanent faithful union rooted in Scripture.
Marriage is a vocation that responds to God's call to holiness and echoes the relationship between God and his love for his Church. It is more than a legal contract; it is a covenant and a sacrament.

How will our marriage be strengthened with grace from God?
How is a Catholic marriage different than a civil marriage contract?
Why do you want to marry in the Church?
How is God part of your marriage?
What is meant by lifelong, indissoluable, generative marriage?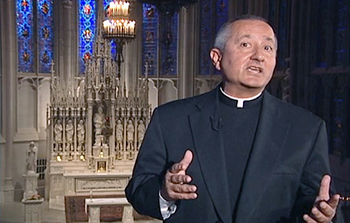 Father Lou Cameli
 is a priest of the Archdiocese of Chicago and was ordained in 1969.
He served on the faculty of the University of Saint Mary of the Lake Mundelein Seminary in a number of roles including professor of spiritual theology, Director of Spiritual Life and President of the Ecclesiastical Faculty of Theology.
Father Cameli was the founding director of the Office for Ongoing Formation of Priests. He also served as pastor of Divine Savior Parish in Norridge.
Appointed by Cardinal George as the Archbishop's Delegate for Formation and Mission, Fr. Cameli now serves as a resource theologian to the agencies of the Pastoral Center.
He holds a doctorate in spiritual theology from the Pontifical Gregorian University in Rome.