The terms ecumenical, interfaith, interchurch, and mixed marriages are often used interchangeably but do not have the same meaning. Ecumenical refers to relations and prayers with other Christians. Technically, marriages between a Catholic and a baptized Christian who is not in full communion with the Catholic Church (Orthodox, Lutheran, Methodist, Baptist, etc.) are called mixed marriages. Marriages between Roman Catholics and Eastern Catholics are not mixed marriages. Interfaith refers to marriages between Christians and members of the "Abrahamic faiths" (Jewish and Muslim), interreligious is for marriages between Christians and non-Abrahamic faiths such as Hinduism and Buddhism. Interchurch describes marriages between Catholics and a person of a Christian denomination, such as Lutheran or Presbyterian. The couples interviewed by Michael are interchurch couples; where both spouses are Christian. One is Catholic and the other is either Lutheran or Presbyterian.
In all marriages, the primary concern of the Church is to uphold the strength and stability of the indissoluble marital union and the family life that flows from it…[Interchurch marriages] contain numerous elements that could well be made good use of and develop both for their intrinsic value and for the contribution they can make to the ecumenical movement. This is particularly true when both parties are faithful to their religious duties. Their common baptism and the dynamism of grace provide the spouses in these marriages with the basis and motivation for expressing unity in the sphere of moral and spiritual values.  

Catholic Ecumenical Directory 144 – 5
All marriages involve some differences in faith, even if the two marrying share the same religion. Since we are unique individuals with various histories and backgrounds, our perceptions and understandings about God and our faith experiences will always differ. Couples marrying today, whether they are of the same religious heritage or not, face the same challenge as did couples two millennium ago—to combine all the aspects of their lives, especially their religious beliefs, to create that triple braided cord.
Faith and our religious traditions are important elements of our lives to be shared, especially if you are marrying someone of a different faith. Learning more about your individual experience can provide a starting point.
What is there about your Christian heritage that you would like your future spouse to know?
Are there elements of your Christian faith that you are reluctant to talk about before marriage?
How will your families accept this marriage? Are there questions about your beliefs that your future spouse's family will have for you?
How will you handle the religious aspects of your wedding? What will the ceremony be like?
What challenges do you expect your different Christian traditions to bring to your relationship, in the raising of children, and in relationship to your other relatives?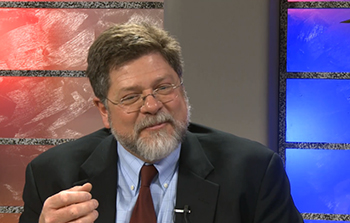 Presented by Michael Terrien, Obl. OSB and two interchurch couples (both Christian couples, with one spouse Catholic and one Protestant).
Michael Terrien, Obl. OSB, is the Project Director for the Office for Ecumenical and Interreligious Affairs of the Archdiocese of Chicago. He graduated from George Williams College and holds a certificate in Executive Education from Harvard Business School. Besides being a successful businessman and the former operator of a successful corporate experiential learning consulting firm, Michael founded Play for Peace®, a nonprofit organization devoted to bringing together children, youth and organizations from communities in conflict, using cooperative play to create laughter, compassion and peace. He is a lay (Oblate) Benedictine, and is married and raising a family.
Rebecca and Ken Devlin 
Rebecca grew up in Richfield Springs, New York, where she was baptized and confirmed Presbyterian and Methodist at age 16. She attended the University of Rochester, where she earned her Bachelor's degree in Psychology. She moved to Chicago to attend Loyola University and received a Master's Degree in Applied Social Psychology. Rebecca works as a Senior Project Manager in the field of social science research. She is also an active member of Lincoln Park Presbyterian Church, where she is an ordained elder. She also serves ion the school board of St. Viator Elementary School, where the children attend. In her remaining free time, she enjoys reading, cooking, knitting, and sewing.
Ken is the youngest of eight children born into a "traditional" Irish Catholic family in Pittsburgh. He graduated from the University of Notre Dame with a degree in marketing and worked in New York before moving to Chicago. He is the Senior Director of Sales and Marketing for a large retail chain. He is an active member of St. Viator parish in Chicago. Serving as a Lector, Eucharistic Minister, and Secretary on the Pastoral Council. He spends his time chasing after his kids, golfing, and rooting for his beloved Pittsburg sports teams.
Rebecca and Ken were married in 2002 and live in Chicago. They have two sons.
Jim and Chris Sustr
Jim is a graduate of the University of Wisconsin at Madison where he earned his BA in Journalism.  He received his Masters in Education from the University of Illinois at Chicago. Jim  was raised and still practices his Lutheran faith. He is currently a member of Concordia Lutheran Church in Chicago. He has been a Chicago firefighter for sixteen years.
Chris earned her BS in Finance at the the University of Illinois at Urbana and her MBA from DePaul University. She was raised and still practices her Catholic faith and attends Our Lady of Victory in Chicago. After working for years in the telecommunications industry, she and a business partner started MyCharmedLife.com which she still runs.