Studies have shown that one of the biggest predictors of divorce is the avoidance of conflict.
Marriages that succeed and marriages that fail have about the same level of disagreements; the difference is in the way that conflict is handled.
This segment gives ideas for handling conflict in a positive manner and the steps to forgiveness.
Do arguments change over time?
Does being married change the conflicts?
How do children react to conflict?
Are there marriage deal breakers for you?
Where does forgiveness enter into marriage?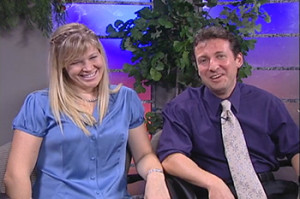 Jenny O'Donohue received her Masters in Nursing from the University of Illinois at Chicago. She attended Benedictine University in Lisle for undergrad work and works as a nurse practitioner. She and Tim are PreCana presenters and coordinators for the Archdiocese of Chicago, have been married seventeen years, and have two children.
Tim O'Donohue, LCPC, works as a therapist for the Center for Contextual Change. He is a licensed professional counselor and domestic violence professional in the state of Illinois. He has seventeen years of experience specializing in relationships, domestic violence, anger management, and substance abuse. He has a Bachelor of Science degree in psychology and speech communication from the University of Illinois in Champaign-Urbana and a Masters degree in counseling psychology in from Benedictine University in Lisle.
He is the author of Ten Steps to Better Living, a guide to positive relationships for perpetrators of domestic violence. Tim has led trainings for the Chicago Police Department, the Archdiocese of Chicago, and numerous other groups and agencies in the Chicago area on tops of domestic violence, substance abuse, and positive relationships.
Tim was recruited by the French-American Foundation to teach gang prevention and assist in the development of after school programs in Marseilles, France. He has numerous television appearances and work as a guest expert on addiction treatment including appearances with Dr. Drew Pinski and on ABC-7s Fighting Words program.