Relationships are all about communication and happy, healthy marriages require frequent and honest communication between spouses. This is a skill you will work on throughout your life as you commit to finding more effective ways to relate to each other.
This segment provides suggestions and experiences on topics like verbal and non-verbal communication, listening skills, sharing emotions, being assertive, and gender differences in communication.
How do we each react to "I" statements or "you" statements?
Have we found that we communicate differently as men and women?
How can we make listening a less passive process? How can I learn to listen more deeply?
How do we learn to work better as a team?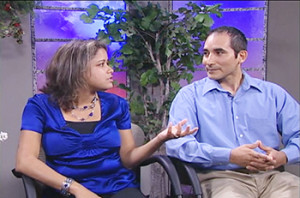 Dr. Alicia and Jose Arturo LaHoz
Alicia E. LaHoz, Psy.D. is a Licensed Clinical Psychologist. Dr. LaHoz has collaborated with the Latino community in the Chicago area on a number of community efforts, including the development and coordination of the Chicago Alliance for Latino Marriages (CALMA), which offers multiple preventative marriage and relationship programs.
She is a senior consultant with Urban Strategies and has spearheaded Family Bridges, a faith based partnership, with the intent of providing preventative relationship programs for Latinos.
Dr. La Hoz has spoken at national conferences on the healthy marriage initiative and cultural issues relevant to Latino couples and families.