Children are always a gift from God
We are a prolife church, and we will do as Mary did when the angel Gabriel appeared to her and told her she would be the mother of Jesus: say yes to life.
For some couples, having children is the last thing on their minds as they prepare for marriage. Others may be planning to start a family right away, or may be bringing children into the marriage. In any case, it is important to talk about parenthood at this stage. By learning about each other's expectations of children and parental styles, you will grow in the understanding of your spouse and the parent of your children.
Is there a right time to have children?
What do we need to do to prepare for having children?
How many children would you like to have and when would you like to have them?
What will you do if things do not go as planned?
How will we pass on the Catholic faith to our children?
Ray and Amanda McPartlin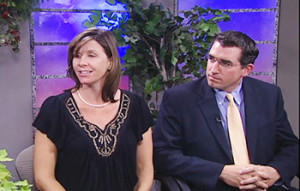 Ray McPartlin is the Associate Sales Director for Verizon. He is a Chicago native and received his bachelor's degree from Loyola University. He is working on his masters at the University of Notre Dame.
Amanda is a former Catholic school teacher. She received her bachelors in education from Northeastern Illinois University and is currently a stay at home mom of five.
Ray and Amanda have been married fifteen years.