This optional segment gives you background on how coming from a family of divorce may affect your marriage. We all want a good marriage, no matter what our family background is. We want to bond with another person for life and raise children with them. Children of divorce may have a lot of questions about how they can have a good marriage when their parents did not.
Those questions are discussed in this segment by the author of Between Two Worlds: The Inner Lives of Children of Divorce.
Can I be a good husband or wife if I never saw that modeled by my parents?
How will being a child of divorce impact my marriage?
How can I be sure that what happened to my parents won't happen to me and my future spouse?
How can I make sure my kids don't have to go through what I did?
Do I have a tendency to avoid conflict because of what happened to my parents?
How will we handle the wedding logistics with all our families?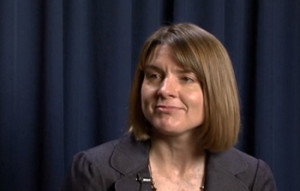 Elizabeth Marquardt is editor of FamilyScholars.org, where she also blogs, and is director of the Center for Marriage and Families at the Institute for American Values in New York City. She is also lecturer in American Studies at Lake Forest College.
Elizabeth is author of Between Two Worlds: The Inner Lives of Children of Divorce (Crown, 2005). Based on the first nationally-representative study of grown children of divorce in the U.S., she argues that while an amicable divorce is better than a bitter one, even amicable divorces shape the inner lives of children.
She is co-investigator of the ground-breaking studies My Daddy's Name is Donor: A New Study of Young Adults Conceived Via Sperm Donation and Hooking Up, Hanging Out, and Hoping for Mr. Right: College Women on Dating and Mating Today. Her most recent report is One Parent or Five? A Global Look at Today's New Intentional Families. She is currently co-investigating a project on Gen X caregiving and grieving.
Elizabeth has appeared often on news programs including NBC's Today show, CNN, ABC, FOX, CBS, and PBS and scores of radio programs including BBC World News and national and local NPR stations. She has published opinion pieces in the New York Times, Washington Post, Los Angeles Times, Slate, Huffington Post, The Atlantic online, and elsewhere. Her peer-reviewed single authored and co-authored chapters appear in Social Science Research, John Marshall Law Review, and Sociology of Religion, and in forthcoming volumes from New York University Press and Paradigm Press.
Elizabeth holds a Master's in Divinity and an M.A. in international relations from the University of Chicago, and a B.A. in history and women's studies from Wake Forest University. A frequent presenter to academic and professional groups in the U.S. and internationally, she has been married sixteen years and has two children.