Many couples wonder what is allowed in a Catholic marriage ceremony and how they can plan this most important part of the wedding.
The presenter answers commonly asked questions about ceremony planning and explains the rules and traditions behind the answers.  Topics covered include the Catholic Wedding Rite, interfaith marriage, destination weddings, the involvement of non-Catholics, the bridal party, traditions, music, and readings.
Can we get married on the beach?
If one of the couple is Catholic and one not, should they have a Mass?
Can a minister be part of the wedding ceremony with the priest?
How many people can be in the wedding party?
Should everyone involved in the wedding be Catholic?
Can our special couple song be used in the ceremony?
What ethnic traditions are allowed?
How do we actually plan the ceremony?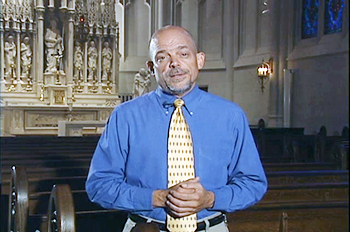 Todd Williamson has been the Director of the Office for Divine Worship in the Department of Parish Life and Formation of the Archdiocese of Chicago since 2000.
He is the author of two editions of Sourcebook for Sundays, Seasons, and Weekdays: The Almanac for Pastoral Liturgy (2007 and 2008, LTP) and has contributed to subsequent editions. He is also coauthor of Bringing Catechesis and Liturgy Together: Let the Mystery Lead You! (2002, TwentyThird Publications) and has written for numerous periodicals including Rite, Pastoral Liturgy, Catechumenate, and Religion Teacher's Journal.
In addition to writing, Todd is a teacher and national speaker in the areas of liturgy and sacraments.