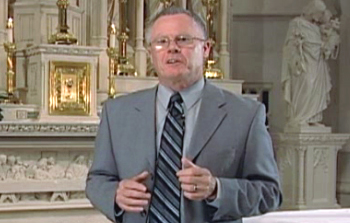 Frank Hannigan served as the Director of the Marriage and Family Ministries Office of the Catholic Archdiocese of Chicago for 30 years. Prior to becoming the first lay person appointed to this position, he was the Director of the Cana Conference of Chicago.
Frank is responsible for the coordination and implementation of all ministries and programs in the Marriage and Family Ministries Office. These ministries include the Cana Conference, Divorce and Annulment Support Ministry, Hispanic Family Ministries, and Natural Family Planning, Domestic Violence Outreach, and Strong Catholic Families, Strong Catholic Youth.
He is involved in training for parishes, deacon candidates, and seminarians, as well as the presenting teams for the various programs sponsored by the Marriage and Family Ministries Office.
After completing his undergraduate work at Niles College of Loyola University in Chicago, Frank received his Master of Arts Degree in Education from Chicago State University. A former Teacher of the Year at Victor J. Andrew High School in Tinley Park, he is also a Certified Master Trainer.
Frank co-authored A Marriage in the Lord, a marriage preparation book used by over 700,000 couples across the United States. In many segments included with the A Marriage in the Lord online Catholic Marriage Prep Class, Frank interviewed the couples and presenters.
Diocesan Section Representative to the National Association of Catholic Family Life Ministers (NACFLM)
Former advisor to the United States Conference of Catholic Bishops' Committee on Marriage and Family Life and to the National Pastoral Initiative on Marriage
Member and former president of the Illinois Catholic Family Ministries organization
Former member of the Board of Directors of the Illinois Fatherhood Initiative
Co-author of A Marriage in the Lord and A Ministry to Marriage
Recognized as a Distinguished Alumnus of St. Joseph College Seminary in 2000
Received the Certified Master Trainer designation in 2003