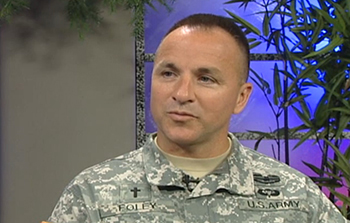 Father Matthew Foley presents in the Unique Challenges of Military Couples segment.
After graduating from Libertyville High School and Marquette University, Matt Foley felt called to the priesthood. He was ordained a Catholic priest of the Archdiocese of Chicago in 1989 and was sent on a special assignment to Mexico as pastor of Santiago Apostol in Quechultenango, Guerrero where he began the El Nino Rey scholarship program, which provides educational scholarships, dental services, and family assistance to the people of Guerrero, Mexico.
He then served as pastor of St. Agnes of Bohemia parish in Chicago for eight years. Matt's brother served in Desert Storm, and he had promised if there was a war, he would be a chaplain. In 2009 Cardinal Francis George allowed Father Matt to became a US Army Chaplain. He has been deployed to Afghanistan three times, and is now serving as the pastor at St. James parish in Arlington Heights, Illinois.
Matt played rugby with the late comedian Chris Farley at Marquette, and Chris later named his famous motivational speaker character ("Living in a van, down by the river!") after him as a joke since he and the character have only the name in common.
Father Matt says, "I'm not a man of violence. I ask my parishioners to always pray for peace and to fight for justice."