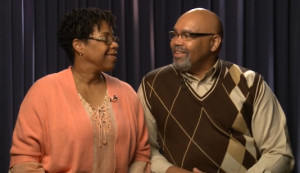 Andrew Lyke is a former Director of the Office for Black Catholics in the Archdiocese of Chicago. He hosted "The Cardinal and You,"  a monthly news show featuring interviews with Cardinal George and broadcast on Comcast. He was the Coordinator of Marriage Ministry for the Marriage and Family Ministries Office and the principle writer of In the Spirit of Cana, the Marriage Ministry Guidelines used by the Archdiocese of Chicago. He has been involved in ministry to the Church in America in a variety of ways over the past 30+ years.
With his wife of 38 years, Terri, Andrew designed the Arusi Retreat for Christian Marriages, which they have presented across the United States. He is a national trainer of curricula used in the Healthy Marriage Initiative. Andrew and Terri have written articles for local and national publications on Christian married life.
They are the founders of Arusi Network, Inc., a not-for-profit organization that educates African Americans on the skills and benefits of Christian marriage. Together they served as advisors to the U.S. Conference of Catholic Bishops' (USCCB) Committee on Marriage and Family. Andrew has served as a board member for the Catholic Network of Volunteer Services, and is a former Secretary of the National Advisory Council of the USCCB.
Andrew and Terri were the 1995 recipients of the Augustus Tolton Archdiocesan Award, the 2005 Bishop Quarter Award for the Archdiocese of Chicago, and the Paluch Family Foundation Award for 2012. They are the parents of two married young adults, grandparents of two granddaughters, and parishioners at Sacred Heart Church in Joliet, Illinois.